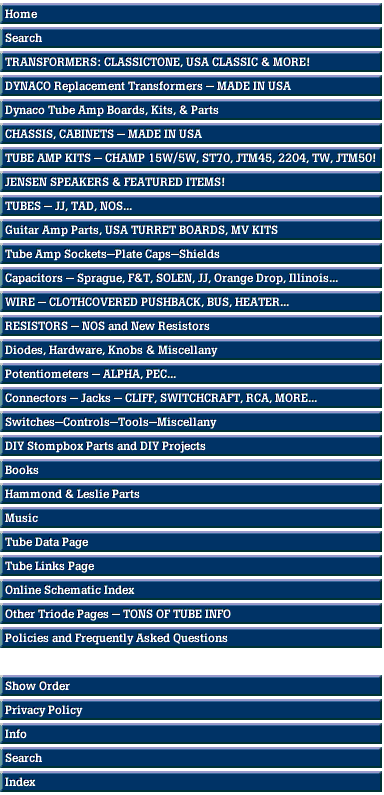 7025 WA TAD HIGHGRADE Premium Selected - NEW -

The TAD 7025 WA delivers full gain with smooth top end. No microphony issues even with the most sensitive preamps. The 7025 WA supports a fat midrange and creates a bold tone with lots of overtones. Played clean the TAD 7025 WA delivers a warm liquid tone which is very responsive to dynamic playing. Overdriven the 7025 WA provides lots of sustain with well defined mid-range punch.

- recommended choice for most demanding guitar amp input/V1 stages - extremly low microphony selected for most sensitive applications - smooth top end - full gain - fat mid range - tight low end - outstanding low microphony - low noise - balanced systems - triple mica construction - replaces: 12AX7, 12AX7A/WA/WB/WC, ECC83, 7025, SPAX7-A

The RT080 TAD 7025WA is recommended as Input tube for guitar amplifiers like David Eden, Diezel ("Pit Spezial"), Blackstar, Brunetti, ENGL, Fender, Marshall, Mesa Boogie, Orange etc. The TAD HIGHGRADE Selection is especially recommended for use with demanding input stages (V1) and for all applications demanding the best selection for extremely low microphony 7025 / ECC83 / 12AX7A type tubes.



Triode, USA
Customer Service
M-F 9AM-4PM CT 1-800-774-3201
Email us Anytime: questions@triodestore.com