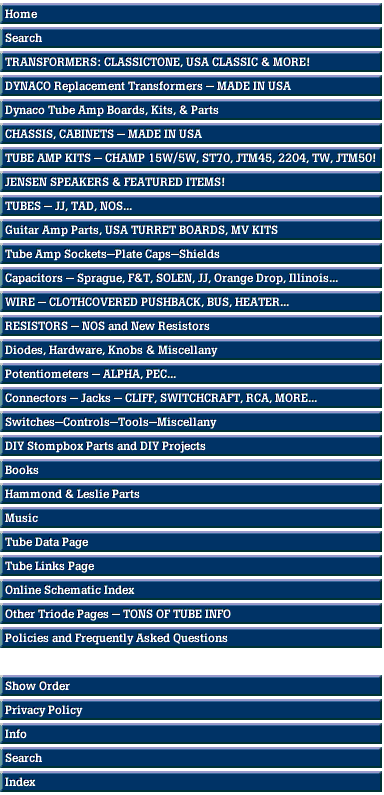 DISCONTINUED - PLEASE CHECK DIYTUBE.COM FORUM FOR MORE INFO ON THIS BOARD- THIS LISTING LEFT UP FOR INFO ONLY
WE STILL HAVE CHASSIS, TRANSFORMERS, BOARD PARTS AND KIT PARTS AVAILABLE.
Build a hifi tube amplifier with off the shelf components using the diytube printed circuit board, an IPC-compliant design. The PCB includes individual, adjustable cathode biasing which allows the user to match their tubes with precision. Instead of 12DW7's, the diytube stereo 35 uses a 12AX7A and 12AU7 combo. This is a board complete with all on board components needed to build the PCB. Pick up our DIYTube ST35 chassis and DIYTube Transformer Bundle and you're ready to go. Rev E.
NEW VERSION E!
Includes: manual, parts list. Rev. E
Please note: Rev E board is Red
OUR FULL ST35 REV E. AMP KIT IS HERE: ST35 FULL AMP KIT
Note: The board pictured has been partially assembled to show the parts, but the boards are sold unbuilt and need to be stuffed.




Triode, USA
Customer Service
M-F 9AM-4PM CT 1-800-774-3201
Email us Anytime: questions@triodestore.com