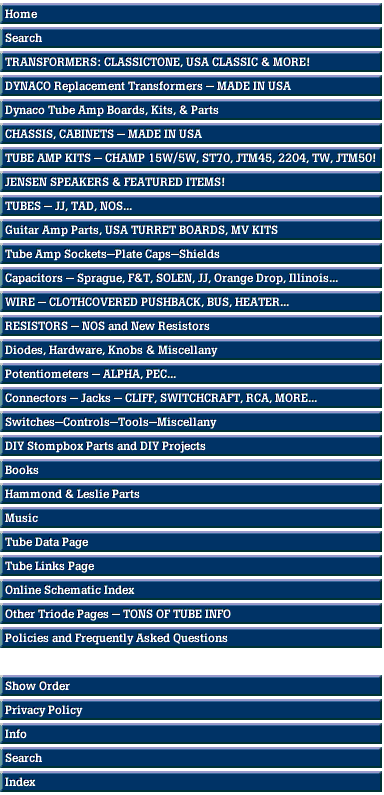 EL34-EH "Electro-Harmonix" (Russia) Sovtek's Mike Matthews says that these will "make your Marshall sing with tone and sustain" and he offers to let anyone who is disappointed give him a boot in the hind end. If I owned a Marshall that would be an offer I couldn't pass up. ;-) Replaces the old EL34-WXT and EL34-G Sovtek used to sell, with improved tone and reliability.
The Electro-Harmonix EL34EH is extremely musical and predictable with a sound that is rich, smooth, and detailed without being edgy. It is the perfect EL34 for vintage equipment and a sure way to improve the performance of modern equipment.

According to the technical journal, Vacuum Tube Valley, "The Electro-Harmonix EL34EH is balanced throughout the entire music spectrum. Bass goes deep and is tight, mids are sweet and well defined, and highs are detailed and extended."




Triode, USA
Customer Service
M-F 9AM-4PM CT 1-800-774-3201
Email us Anytime: questions@triodestore.com