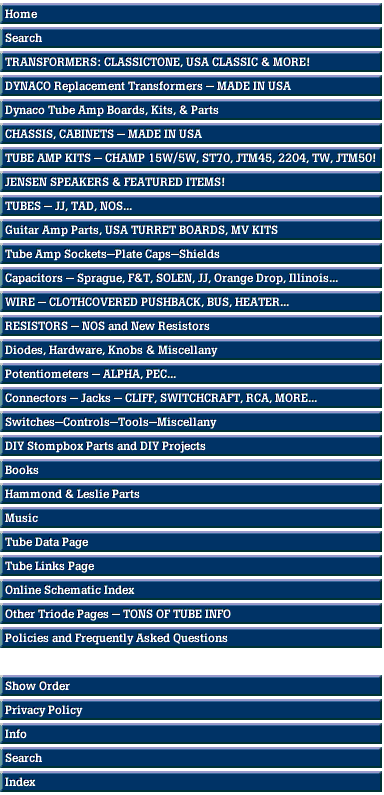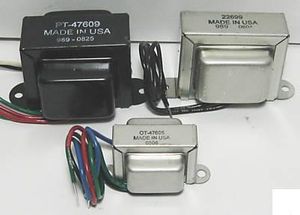 Transformer Bundle for the 6G15 Add-On Reverb Unit. Includes: Power Transformer, Output Transformer, & Choke. Custom made to original specs right here in the Home of the Blues, Sweet home Chicago.....Illinois USA. Build your own reverb unit for that extra drive and reverb that goes from Chicago to Nashville to Frisco in the turn of the dial. Boinnggg......

PT-47609: Primary 120VAC, Secondaries 306V at 27mA, 6.3V at 1.05A. Height 2.03 inches, width 2.38 inches, depth over covers 2.38 inches, bolt mounting centers are 2.81 inches.

EXPORT POWER TRANSFORMER PT-47610 NOW AVAILABLE! (SEE DROPDOWN MENU)

OT-47605: Matches 7.5K 28mA plate load to 8 ohm reverb tank input. Mounting hole centers are 2 inch apart.

22699 Choke: Choke core measures 2 1/4 inch wide X 1 7/8 tall X 1 3/4 inch deep over the covers. Mounting centers are 2 3/4 inch apart. Rated 4 henries at 90 ma DC. 110 ohms DC resistance (+-5%), 2500 volt DC factory hipot tested.

Also works great with DIY projects and as a general replacement. Standard Replacements for 6G15 Tube Driven Reverb Unit.




Triode, USA
Customer Service
M-F 9AM-4PM CT 1-800-774-3201
Email us Anytime: questions@triodestore.com