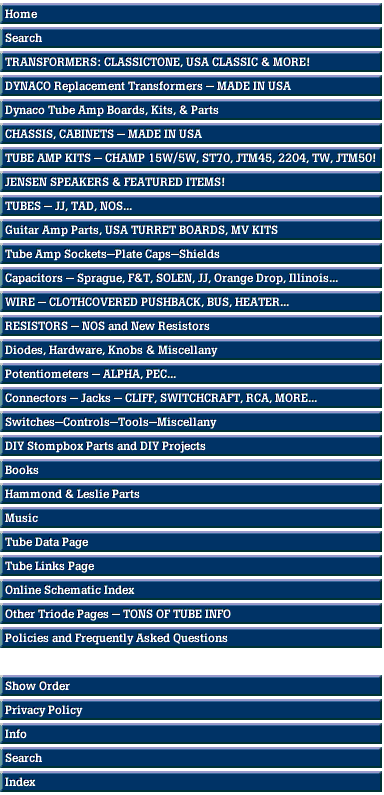 6L6 WGC MATCHED QUAD - TUBE AMP DOCTOR - TAD GE STYLE - 6L6WGC-STR
TAD remakes the all time favorite 6L6 classic of GE. The TAD 6L6WGC-STR has warm lower mids and silky top end; exactly like the classic GE version of the 50s and 60s. The complex midrange and sweet heights are dedicated to excellence in a class of its own. The perfect choice for vintage amps like the Bassman, Twin or Super Reverb. The TAD 6L6WGC-STR is a great choice for classic tone with warm cleans and rich, sweet mids when pushed.
This 6L6 is only 80mm high (without pins) and can also replace 5881 or 6L6WGB tubes.
Black-plate design, gold gird wire, double getter construction, no-noise filaments and 1.2mm thick heavy duty glass envelope.




Triode, USA
Customer Service
M-F 9AM-4PM CT 1-800-774-3201
Email us Anytime: questions@triodestore.com